Wagon Wheel RV
Campground and Cabins

408 Gibbon Avenue
P.O. Box 608
West Yellowstone, MT 59758
Phone: (406) 646-7872

The Wagon Wheel Campground & Cabins is West Yellowstone's best kept secret...

Tucked off the main streets of town, the "Wagon Wheel" has a forest setting with a genuine Western atmosphere. Mature spruce and pine trees surround all RV sites, cabins, and tent sites. We offer a truly relaxing and enchanting environment - right in the heart of West Yellowstone.
"With the utmost attention to detail..."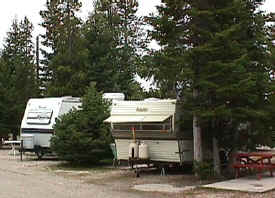 Our primary concern is to make everyone's stay the best and most enjoyable ever.
Spending the night, week, month or all summer, our guests will always find our
facilities and services to be efficient with the utmost attention to detail.