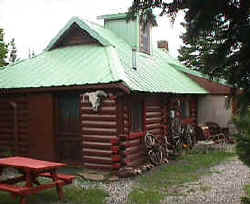 Two cabins have den and fireplace...Cabin #1
Reminiscent of the grand cabins of the 1930/40's, it is filled with western decor art. The appointments alone make this unique, fully furnished log cabin a favorite you'll be talking about for many years to come.

Cabin #1 has three bedrooms. The loft bedroom, with a sky view window, has two twin beds. A second downstairs bedroom has two bunk beds and the main bedroom has a queen bed. The den includes a wood pellet fireplace, Cable TV and VCR. The kitchen is fully equipped with stove, oven, refrigerator, microwave, dishwasher, washer and dryer ...... everything to set up housekeeping.