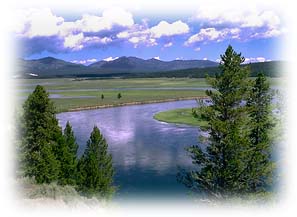 Welcome to West Yellowstone, Montana.
West Yellowstone, Montana rests on the border of Yellowstone National Park nestled within a valley of the Rocky Mountains. West Yellowstone is the perfect location for a vacation into Yellowstone National Park or tour the beautiful surrounding areas.
Adjacent to the West Entrance of Yellowstone National Park, West Yellowstone is the ideal spot for your family's Yellowstone Vacation. Because a Yellowstone experience needs more then a day, you will be pleased with our convenient location. Yes, you could drive through Yellowstone National Park in one day, but to experience the full impact of our Nation's first national park allow yourself more then one day. Plan time for shopping, stopping, walking, looking, and even some Ranger-led activities. Ten thousand thermal features and 2 1/2 million acres of nature's best will grab your imagination for days. Why not avoid the "pack-up, move-on, and search for another place to stay" hassles? Our friendly community offers its great location and full services at reasonable rates.
Wondering what is there to do while in West Yellowstone?
Discover Nature's Wonderland – In Yellowstone National Park, the earth is in action with geysers, mountain ranges and rivers, waterfalls, ancient volcanoes, evidence of more recent earthquakes. Wildlife abounds – elk, bison, eagles, swans, bighorn sheep, and trout! Two million acres of towering mountains and sweeping plains are yours to explore on foot, by car or boat, horseback, mountain bike, snowcoach, snowmobile or skies.
Blue Sky, Blue Water – Explore 12,000 recreational acres at Hebgen Lake, which offers superb boating, fishing, sailing, and wind surfing. We have all the conveniences – marinas, boat access, boat rentals, accommodations, camping and food service.
The Earth Moved – At Madison River Canyon Earthquake Area, half a mountain crumbled into the canyon in 1959. Over 37,000 acres of the Gallatin National Forest preserve the results of the earthquake. Stop by the visitor center, pick up a map and take a self-guided tour. Open Memorial Day trough Labor Day.
Play in the Past – Relive Montana Territory gold rush days. Visit authentically restored buildings in Virginia City and the ghost town of Nevada City, just 85 miles north. Tours run from late May to mid-September.
Journey into the Earth – Explore the largest limestone caverns in the northwest on a two-hour guided tour of Lewis and Clark Caverns State Park, 110 miles from West Yellowstone. Open May 1st to September 30th.
Get out your binoculars – Red Rock Lake National Wildlife Refuge is 30 miles from West Yellowstone. Established to preserve the rare trumpeter swan, the refuge is home to 18 waterfowl species, fox, moose, and pronghorn antelope.
Choose Your Fun – You never run out of things to do in West Yellowstone. Fish our blue-ribbon trout streams and lakes. Hike miles of trails for a closer look at flowers and wildlife. Horseback ride with a western wrangler. Float a gentle river or a brave the white water. In town, browse through specialty shops, attend a live theater performance and visit the Museum of the Yellowstone and International Fly Fishing headquarters and gallery. Housed in the Union Pacific Depot, the museum contains Indian, cavalry and mountain man artifacts as well as wildlife dioramas.
Here in West Yellowstone you can relax in the center of it all. West Yellowstone Web Works has compiled a listing of businesses to help you plan your vacation in West Yellowstone. Please select your area of interest below.